The world is experiencing its worst ever outbreak of avian flu in wild birds, with thousands dead and dying along coastlines, in gardens and cities. These Guardian readers from the UK were among those who got in touch to tell us about what they have witnessed:
Retiree Allan Davidson said that by midsummer in 2022 miles of beautiful beaches near his home in Golspie, Sutherland, in the Scottish Highlands, were littered with dead seabirds, mainly guillemots and gannets. "Most died out at sea and had been swept in to shore. Some would simply stand, comatose, oblivious to my presence. I would find them lifeless the next morning in the same spot I left them," he says. "What struck me was that the vast majority of the dead birds I encountered had been fine, healthy creatures in excellent condition. They were not emaciated or undernourished.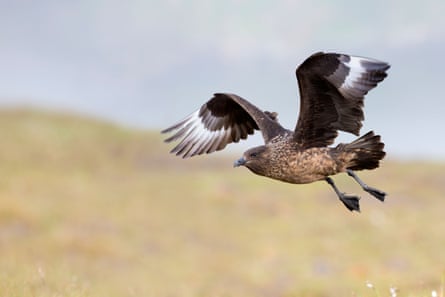 "No one was accepting responsibility for what was becoming a ghastly unnatural event of our making. Armed with a spade, several pairs of rubber gloves and a pair of wellies, I started at one end of the beach and spent four beautiful mid-summer evenings burying 98 guillemots, gannets, little gulls, herring gulls and one great skua." He says he contacted the Scottish Environment Protection Agency (Sepa) and notified them of what he'd done.
For David Mynne, an actor from Penzance, it is the lack of birds he finds strange. "I live on the coast and have spent my life surrounded by squawking gulls. They fill the air with their noise, from sunrise to sunset, but now there is nothing. Not a sign of a gull anywhere. After a lifetime of the ceaseless, noisy chatter this feels distinctly weird."
Jo Clear works for the NHS and lives near Boldon pond in South Tyneside, where a pair of nesting swans raise cygnets each year. She says: "The local kids, and anyone who walks past, enjoy watching them grow from fluffy babies to fully fledged birds. They waddle up and down a busy road, and the council even has a sign up saying "caution – swans nesting" to make sure drivers slow down."
Last December, however, she drove past and noticed two people in hi-vis jackets by the pond. "They were taking the dead swans away – the seven cygnets and their mother. Only the male was left. They'd all had avian flu.
"All winter the male swam alone and serene up and down the pond. The whole village felt sorry for him. This spring, though, he found a new mate. They've had three cygnets this year. Fingers crossed they avoid avian flu. It has brought a bit of hope to everyone, and so the new female is called Hope."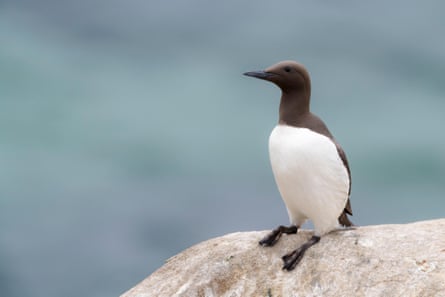 Jenny Aitchison, a retiree from Aberdeen, says she has seen "probably thousands" of birds affected by avian flu. "Over the summer and autumn, I saw children chasing sick birds, dogs rolling on carcasses and people swimming only feet away from floating dead birds. When I spoke to people about avian flu, none had heard of it.
"Sepa and the local council advised reporting of large numbers. I did this after one beach visit where I saw over 100 bodies. I returned a month later, and the same birds were still there in an advanced state of decomposition with terns and gulls scavenging on the bodies."
Sue Wilkinson, a retiree from Topsham, near Exeter, was picking raspberries in her garden when a Canada goose skimmed past her head and landed a foot away, crushing some raspberry canes. "I screamed and ran inside," she says.
"My husband managed to manoeuvre the goose on to the lawn, using a rake to encourage it. It walked round in circles for a while, looking dazed, and eventually lay down in a corner of the garden. The next morning it was dead. We contacted the Department for Environment, Food and Rural Affairs (Defra), but they said they weren't interested unless there were three dead birds. We also contacted the RSPB, the RSPCA, a swan sanctuary and the local council without success.
"We were told to put it in the dustbin but didn't want to handle it or leave it there for 10 days before the next collection. In the end, we paid someone to remove it."
Geoff Humble, a member of university admissions staff in Leeds, says he saw dozens of gannets washed up on the German island of Spiekeroog this summer. "It was awful," he says. "On some stretches, a bird lay every few metres in the sand. The lifeguards were burying any they came across, but said they had seen hundreds."
Heidi Stern, a project manager from Saddleworth, near Oldham, has struggled with poor mental health for decades and took up photography to improve her wellbeing. She was at one of her favourite nature reserves when she spotted a sick bird.
"While walking between hides I noticed a large greylag goose very close to the path," she says. "I approached to take a photo then realised its neck was contorting and it was unable to fly away from me. I knew immediately that this goose was dying of the dreaded disease."
She called the local RSPB warden so it could be removed. "I stood and waited with tears rolling down my face," she says. "Frampton Marsh is a haven, a place of beauty and tranquility where I could escape in times of crisis. Now it's having a devastating crisis of its own, one which essentially we can do nothing about. What a tragic state of affairs we are in, politically, economically and now it feels like even the beautiful birds we are surrounded by are suffering a heartbreaking catastrophe of their own."
Kate Hardy, from Essex, works in healthcare and loves bird-watching. She says she started the year exploring the Highlands of Scotland, visiting black grouse breeding grounds, watching long-tailed ducks and getting dive-bombed by great skua. "The end of the year makes for a devastating contrast," she says.
"Those same shores – sources of such keen pleasure for me – are now laden with the corpses of gannets and other precious seabirds. One of the most devastating sights for me was the colony of sandwich tern off Blakeney Harbour [in Norfolk]. I watched affected birds falling into the sea, with other birds from the colony swirling around them in obvious distress. Normally I look forward to the arrival of overwintering geese but this year I dread the impact of this awful pandemic on their already diminishing numbers."
Find more age of extinction coverage here, and follow biodiversity reporters Phoebe Weston and Patrick Greenfield on Twitter for all the latest news and features