Nutritionally balanced commercial dog food is the safest and most appropriate diet for your puppy or dog, according to experts. Wet dog foods are a great options, especially if you're looking for something for pets with certain dental or health conditions. The soft texture and high moisture content tends to be gentler and more palatable, too.
The difference between low- and high-quality dog food isn't the price, says Dottie Laflamme, DVM, Ph.D., DACVN, an independent consultant of animal nutrition. Ingredients aren't always a telltale sign of quality, either. "There are a lot of brands that want you to think that dogs have to have meat as the first ingredient or else it's not good — this is not true," she says. Dogs can get their essential nutrients from plant-based proteins, so they can consume meals that are plant-based or plant-forward.
We spoke with two experts about what makes wet food a quality choice for dogs and how to choose the right option for your pup's breed and age, as well as tips you can use to evaluate different brands and recipes.
SKIP AHEAD Best wet dog food in 2023 | How to shop for wet dog food | Are grain-free diets good for dogs? | Is it better to feed dogs wet or dry food?
Our top picks
How we picked the best wet dog food
To compile the best options, we spoke with two veterinary nutritionists about what makes dog food nutritious and what quality indicators you should look for at every life stage. We included their recommendations below and compared dozens of other wet dog foods that are on the market — keeping in mind the following factors recommended by our experts:
AAFCO statement: If a dog food is labeled with a statement saying it meets the Association of Animal Feed Control Officials (AAFCO) recommendations through formulation or food-trial testing, it means that it contains all the necessary nutrients for your dog's dog's life stage, ensuring a complete and balanced diet. According to AAFCO, "complete" means the product contains all the nutrients required. "Balanced" means the nutrients are present in the correct ratios.
Expert nutritional guidance: Look for recipes created under the guidance of a board-certified veterinary nutritionist, who is more likely to provide the appropriate nutrients for your dog's age and breed size.
Price: Premium ingredients don't necessarily equate to higher nutritional value — byproducts and byproduct meals are nutritious for dogs, says Jonathan Stockman, DVM, DACVIM, assistant professor of clinical veterinary sciences at Long Island University College of Veterinary Medicine.
Best wet dog food to consider in 2023
When shopping for wet dog food, it's crucial to purchase a complete and balanced diet formulated for your dog's age and breed to ensure they get all their essential nutrients and vitamins, according to our experts. With this in mind, we included wet foods that meet or exceed AAFCO nutritional recommendations and are formulated under the guidance of a board-certified veterinary nutritionist. You should always consult with your veterinarian about any dietary considerations.
Best wet dog food for large-breed puppies: Royal Canin
Puppies have slightly higher protein, fat and caloric requirements than an adult dog, according to our experts. In addition, puppy formulas have strict calcium limits, since puppies can't regulate their calcium absorption. This is especially important for young large-breed dogs who are at risk of developing orthopedic issues, says Stockman.
This large-breed puppy formula from Royal Canin meets the nutritional needs of large-breed growing puppies from 2–15 months (as recommended by AAFCO) with protein-rich ingredients such as chicken, pork byproducts, chicken liver and pork plasma. It also has docosahexaenoic acid (DHA) and eicosatetraenoic acid (EPA), which Stockman says are crucial for brain development, as well as antioxidants for a healthy immune and digestive system. Each 13-ounce can is 320 calories.
Best wet dog food for small-breed puppies: Purina
This all-breed puppy formula includes hearty rice to fuel your pup's "zoomies," as well as chicken and liver to promote lean muscle development and provide the protein, fat and caloric requirements our experts recommend for puppies. In addition, the DHA in this recipe is naturally derived from salmon, which also promotes healthy skin and a soft, shiny coat, say experts. The formula is also available in kibble form.
Best subscription wet dog food: The Farmer's Dog
The Farmer's Dog Subscription Dog Food
The Farmer's Dog is a fresh food option formulated by board-certified veterinary nutritionists and made with chunky veggies and meat that are steamed and cooked rather than processed, for better nutritional value and hydration, says the brand. To get started, pet owners fill out a questionnaire and are provided a personalized food plan based on their dog's unique needs. Select editor Barbara Booth says her cavapoo Finley loves eating The Farmer's Dog. She spent months trying to find something he liked after he refused to eat the food suggested by his breeder. He was lethargic and losing weight, and he was constantly itching, she says. "We finally tried The Farmer's Dog after a friend recommended it, and he loves it. He's not itching, so our veterinarian said it must have been a food allergy. Now he's at a good weight, has a lot of energy and is very happy."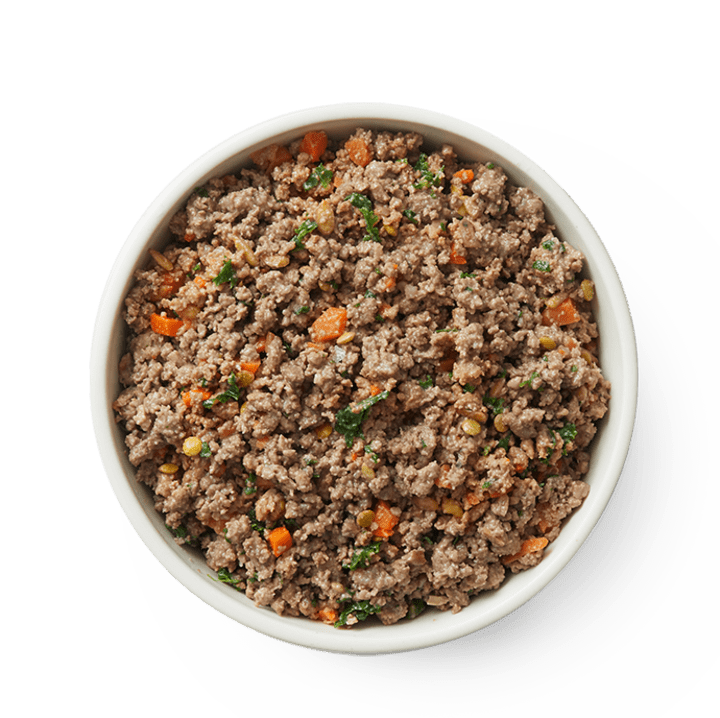 Best wet dog food for adult large breeds: Blue Buffalo
Supplements like glucosamine, chondroitin and omega fatty acids in your dog's food helps preserve joint function, Stockman says. However, adding those supplements to a formulated pet food may come with risks such as improper dosing and quality-control concerns. Blue Buffalo's formula already has joint-healthy ingredients mixed in so you can be sure your dog is getting quality nutrients in the correct proportions.
Best wet dog food for adult small breeds: Rachael Ray
Small dogs typically have a high metabolism and therefore require more protein, fats and nutrients per calorie when compared to large-breed dogs. Rachael Ray's Hearty Recipes variety pack averages 33 calories per ounce. Each formula is made with chunks of chicken and beef in broth-based gravy. Plus, the recipes avoid some common ingredients that cause allergic reactions in dogs, like corn, soy and wheat, according to the brand.
Best budget wet dog food: Pedigree
When shopping on a budget, you don't have to sacrifice your dog's nutritional needs for value, our experts told us. Pedigree Chopped Ground Dinner is a popular wet dog food that reviewers say is a great value and appealing to their pups. Pedigree is part of the Mars brand, which employs full-time American College of Veterinary Nutrition (ACVN) diplomats and other veterinary nutritionists to oversee the ingredients that go into their products. The soft, minced recipe comes in 13.2-ounce cans.
Best wet dog food for weight management: Hill's
Hill's is a reliable brand that provides quality pet food to pet parents and their dogs, says Laflamme. This recipe is highly rated by pet owners, and reviewers say even picky eaters love this low-cal recipe, thanks to the highly palatable second ingredient — pork liver. Stockman recommends therapeutic weight-loss diets because they have ingredients to help weight loss and maintenance by keeping dogs full between meals. This formula has fiber-rich ingredients, like powdered cellulose and carrots. Additionally, the recipe includes salt, which Stockmans says encourages water intake.
Best wet dog food for seniors: Blue Buffalo
This pick from Blue Buffalo is well suited for senior dogs who don't require a calorie- or protein-reduced diet. It has pumpkin to help keep your dog's digestion regular and omega fatty acids from fish oil and flaxseed to help reduce inflammation while promoting healthy skin and fur. Senior dogs age differently, so it's critical to discuss any diet changes with your veterinarian before starting your dog on a new food, Stockman says.
How to shop for the best wet dog food
Choosing the best wet dog food relies heavily on your dog's personal preferences as well as life stage and breed size, our experts told us. Below are a few additional things Laflamme and Stockman say are important to think about when shopping for dog-food.
Check for the AAFCO label. AAFCO is a nonprofit group made up of volunteer experts that establish dietary recommendations for pet food in the U.S. While their goal is to promote the safety and nutritional quality of pet food, AAFCO doesn't approve or regulate pet food formulas, though pet foods that include an AAFCO nutritional adequacy statement on their label have undergone thorough testing to ensure the formula meets AAFCO nutritional standards.
Check the nutrient levels. Growing puppies and adult dogs require different percentages of nutrients. Here's a general list of nutrients you should look for in the varying life stages:

Puppy food should include a minimum of 22.5% protein and 8.5% fat on a dry matter basis (the true nutrient content of a food when 100% of the moisture content is removed), in addition to other important vitamins and nutrients, like DHA, calcium and phosphorus for bone and brain development, according to the AAFCO. Foods that are labeled as "growth," "puppy food" and/or "all life stages" contain the minimum amount of nutrients for puppies
Adult dogs require less protein and fat than puppies, but they can also eat food formulated for "all life stages". Adult dog food should include 18% protein and 5.5% fat on a dry matter basis, according to AAFCO.
Our experts recommend feeding overweight dogs therapeutic veterinary weight-loss diets. They're typically higher in protein and fiber, which can help promote satiety or the sense of feeling full, Stockman says. Veterinary weight-loss diets may include salt as an ingredient to encourage dogs to drink more water, which also promotes fullness, according to Stockman. Lastly, veterinary-formulated diets typically are denser in essential nutrients per calorie, so dogs who eat less aren't nutrient deficient, Stockman says.
AAFCO doesn't recommend specific nutrient values for senior dog foods, unlike puppy and adult dog food, our experts say. Therefore, senior diets can vary widely across recipes and brands. If you're unsure of the most appropriate senior diet for your senior dog's needs, talk with your veterinarian.

Appropriate life stage: There are four categories of life stages for dogs based on their nutrient needs as they age: growth, all life stages, adult maintenance and lactation/gestation, according to AAFCO. Puppies should eat foods labeled as "growth" or "all life stages," while adult dogs can eat foods that are labeled as "all life stages" or "adult maintenance." "Adult dog food" is not appropriate for puppies because it contains less fat, protein and other nutrients than puppy-specific options which are essential for their growth and development. If your dog is pregnant or nursing, consult with your veterinarian for the most appropriate diet.
Feed based on breed size. Our experts recommend feeding dogs based on their breed size to fulfill their specific growth patterns and health requirements. Large- and small-breed dogs have different growth patterns, calorie requirements and health concerns.
Formula oversight. Recipes that are formulated under the guidance of a board-certified veterinary nutritionist will have the proper amount of nutrients based on your dog's age and breed. If you're unsure if your canine's favorite dog food brand employs a full-time veterinary nutritionist, Stockman recommends calling the company — or check Pet Nutrition Alliance's Dare To Ask database, which provides pet parents with objective information on pet food.
Don't be afraid of budget-friendly brands. Our experts say that quality doesn't always correspond with price.
Are grain-free diets good for dogs?
Unless your dog has a gluten intolerance, there's no reason to avoid grains in their foods, says Stockman. Marketing tactics escalated the belief that grains are associated with cancer, diabetes and obesity despite lack of scientific evidence, Stockman says. "This really increased the popularity of grain-free diets, but sometimes at the expense of nutritional value and safety," he adds.
Is it better to feed dogs wet or dry food?
Both canned and dry dog food can provide balanced nutrition for dogs, but each has pros and cons. Wet food has a higher moisture content that can benefit dogs with certain dental or medical conditions, Laflamme says. Additionally, higher water content can make weight-management diets more effective, according to Stockman. However, wet food can cost more per ounce and tends to have a shorter shelf life than dry food once it is opened.
Which wet food brand is best for dogs?
There's no one best brand of dog food for every pup at each life stage. Pet food nutrition should be based on individual needs and in collaboration with your veterinarian. However, Laflamme says the overall best wet dog food meets AAFCO's nutritional guidelines for your dog's life stage, is affordable and approved by your veterinarian based on your dog's needs.
What is the No. 1 healthiest dog food?
The healthiest dog food is the one formulated for your dog's life stage by a veterinary nutritionist. You'll know dog food is healthy if it has an AAFCO statement on its label, stating that the food has been formulated or feed-trial tested to meet its nutritional recommendations. If you're not sure if a dog food is nutritionally complete and of high quality, "the World Small Animal Organization specifies a list of questions to ask a pet food brand before you buy their food," Stockman says. "[It] includes questions such as 'Do you employ full-time veterinary nutritionists?' and 'Do you own your manufacturing plant?' If you don't have time to ask these questions yourself, the Pet Nutrition Alliance has compiled a list of responses from numerous brands to these questions on their website," he says.
Meet our experts
At Select, we work with experts who have specialized knowledge and authority based on relevant training and/or experience. We also take steps to ensure that all expert advice and recommendations are made independently and with no undisclosed financial conflicts of interest.
Dottie Laflamme, DVM, Ph.D., DACVN, is an independent consultant of animal nutrition. She worked for Purina's Research and Development team until her retirement in 2015.
Jonathan Stockman, DVM, DACVIM, is an assistant professor of clinical veterinary sciences at Long Island University College of Veterinary Medicine. He is also a veterinary consultant for Petco.
Why trust Select?
Janelle Leeson is a Portland-based freelance writer who holds a bachelor of science degree in biology. Her approach to pet-care writing and reporting is rooted in scientific principles that consider a pet's biological need for play, nutrition and environmental enrichment. For this piece, Janelle interviewed two experts who specialize in veterinary nutrition. She also researched dozens of wet dog foods on the market that met criteria based on our experts' insights. She included foods that were recommended by experts, plus any options that were highly rated and met expert shopping guidance.
Catch up on Select's in-depth coverage of personal finance, tech and tools, wellness and more, and follow us on Facebook, Instagram and Twitter to stay up to date.